As part of our work to encourage banks and pension providers to move money away from nuclear weapons, we're supporting the NatWest Day of Action this Friday.
More than £32bn is invested in nuclear weapons by British financial institutions – something we want to change as AGMs start to take place over the coming weeks.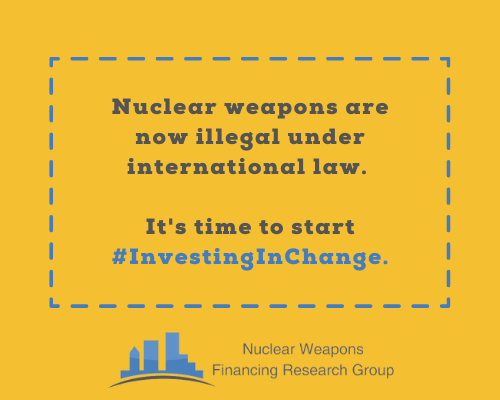 Whether or not you bank with NatWest customer there are a few ways you can get involved in the action:
Tweet @NatWest_Help and call for change. Don't forget to use the the hashtags #nuclearban and #ChangeNatWest
Forward this email on to any friends you have who bank with NatWest and encourage them to join in
Over the coming weeks we're also planning to challenge Barclays, HSBC, Royal London, Nest and People's Pension. If you bank or have a pension with any of these institutions then we want to hear from you! We are looking for people to get involved in our campaign. Get in touch for more information on how you can get involved – actions range from sharing material on social media to speaking out at AGMs.