Staff
Development Manager
Russell Whiting
Russell is Christian CND's Development Manager, with a recently changed job role which now focusses on the work being undertaken investigating charitable status for Christian CND. He's worked in the peace movement for the past eight years, firstly for national CND before joining CCND in 2017. Outside work, Russell attends an evangelical church in Nottingham. He has an allotment and an Etsy shop where he knits and crochets all sorts of things while listening to heavy metal music!
Office Administrator
John McGrath
John recently joined the CCND staff team, taking over the role form Claire Poyner. John moved to the United Kingdom from New York City in 2014 and lives with family in Lewisham, South East London.
John became interested in the peace movement as a teenager, initially from reading the newspaper and learning the scale of US interventions globally.
He learnt from the American Jesuit Priest and anti-war activist Daniel Berrigan when he taught a class at the Colorado College and was fortunate to spend time with him after school when living in New York City.
Outreach Manager
Liddy Buswell
Liddy has been working for Christian CND since September 2021, and is responsible for CCND's outreach work, with a particular focus on working with young people. She cares deeply about Christians engaging with issues of social justice, and is especially interested about how the voices and experiences of young Christians can bring about change both within and outside of the Church. Outside of work she is also a trustee for the Student Christian Movement and a Methodist youth rep, and in her free time enjoys eating good veggie food, spending time in nature, and musical theatre.
Executive Committee
Christian CND is led by an Executive Committee made up of ten members. Two of these members are Co-Chairs and another is the organisation's Treasurer. The Executive Committee is elected annually at Christian CND AGM. The Executive covers many Christian denominations and traditions including Anglican, Roman Catholic, Baptist and Evangelical.
The Executive provides strategic leadership for the organisation, setting strategy, leading on event planning and taking key decisions. They also oversee the Christian CND staff team. The Executive currently meets on a bi-monthly basis. Elections to the Executive are open to any Christian CND member with more than 10 months membership.
The current Christian CND Executive was elected at our 2022 AGM on 1st October 2022 and will serve until the 2023 AGM.
Co-Chair
Martin Tiller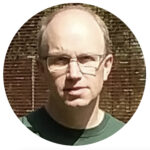 Martin's day job is with Network Rail, but in his spare time he feels privileged to serve as a Christian CND Exec. Nuclear disarmament is such an important and neglected issue, and it urgently needs more Christians involved in it. Martin loves the opportunities that being on Exec gives him to develop that work and reach new people, working within a talented and enthusiastic interdenominational team. His greatest frustration is when nuclear disarmament is seen as a controversial or 'niche' issue, especially among Christians – it should be really obvious that we all need to work together for God's peace on earth. Martin attends a Baptist church and lives in Rugby.
Treasurer
Roger Horne
Roger is a relative newcomer to the peace movement. He grew up in Somerset and worked in the West Midlands and Scotland before moving to Northumberland in 2009. A committed Christian, he's always belonged to his local parsh church – Presbyterian in Scotland and Anglican in England. He is currently a churchwarden and, at last, fully retired. Already passionate about the environment, he eventually realised that peace and disarmament were equally important, and after following Christian CND during the pandemic, was elected to the Exec in 2021. In awe of the stalwarts of the Greenham generation!
Exec
Mike Gilbert
Mike and his wife Caroline came back to the UK in 1980 after working for a few years in Africa (Mike is a botanist, and they met at the Anglican Church in Addis Ababa) to find the country in the middle of the cruise missile crisis. They came in touch with CCND fairly soon afterwards, and Caroline (RIP) became very actively involved. Mike joined the exec six years ago and has previous served as Treasurer.
Exec
Aaron Humphriss
Aaron studied Politics and War Studies at the University of Wolverhampton, and became a 'Faith in Politics' intern of the Catholic Bishops' Conference of England and Wales (2018-19). During his time as an intern, Aaron worked in the Westminster office of an MP and completed a Postgraduate Certificate in Catholic Social Teaching at St Mary's University, Twickenham. In 2019, he interned with the Holy See Mission to the United Nations in New York and covered the Disarmament and International Security Committee. Inspired by the Holy See's work on nuclear disarmament, he joined Christian CND in 2020.
Exec
Kelvin Gascoyne
Kelvin has been involved with Christian CND for many years and has served on the Executive Committee for some time. Kelvin is always willing to help out and is a regular on our stalls at festivals and events.
Exec
Theresa Alessandro
I have wanted to rid the world of nuclear weapons since I was a teenager when I read John Hersey's book, 'Hiroshima'.  I have experience of engaging Christian people in dialogue about nuclear weapons and wider peace issues through designing leaflets and banners, speaking at events in person and online, writing for Catholic press, liaising with church leaders, creating liturgies and working on campaigns. I believe prayer can transform us.