On Monday 27 January Christian CND welcomed a delegation from the Bargn Nuri Community to London for a day of activities dedicated to working and praying for peace. Around 60 people of all ages made the trip from South Korea, which is part of the 1000 Day Pilgrimage for Life and Peace visiting Christian Communities and sites around the word where people have suffered the affects of imperialism and war.
The morning started with a display of traditional Samulnori drumming, full of sound and energy, by some of the students of the school run by the Community.
During the morning we heard from Bruce Kent, who welcomed the visitors by running through some of the incredible peace projects he has been involved in, from years leading CND to helping found the Movement for the Abolition of War and many others. Bruce was referred to by one of the South Koreans as the "Grandfather of the peace movement". Next we heard from Cheolho Choi who spoke of the motivation for the Pilgrimage, which started when tensions on the Korean Peninsula were at their height. You can read his full speech online.
Martin Tiller, Christian CND Co-Chair then spoke about the Christian motivation for campaigning on these issues. Martin said that all too often when politicians talk about nuclear disarmament "when the time is right" they are simply putting the burden of action on to the next generation. Martin also spoke to the need to constantly have hope, something which everyone had by the end of our time together.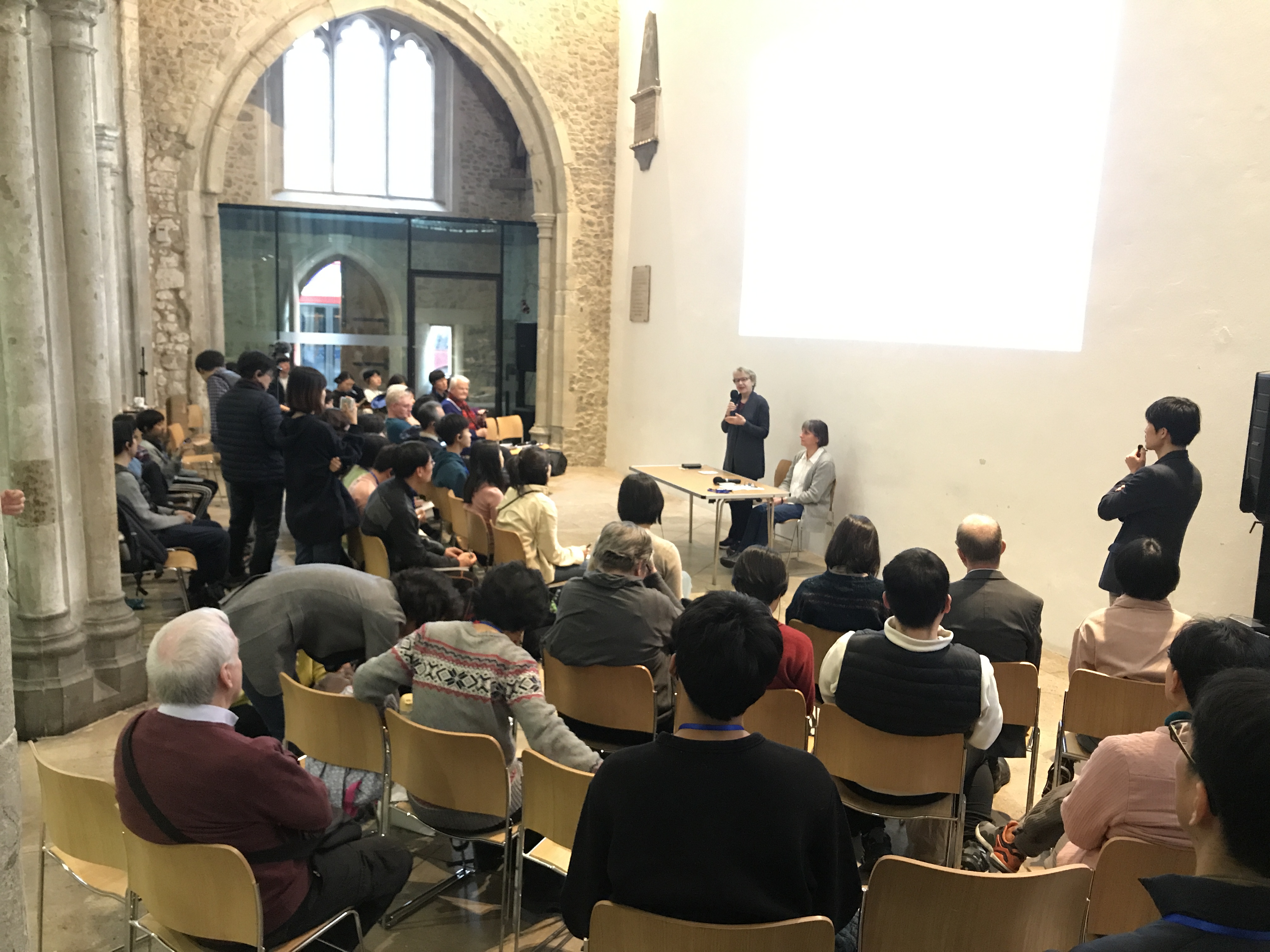 The final speaker of the morning was Kate Hudson from CND, talking about the experience of establishing XRPeace to call for action on climate change, making links with militarism and nuclear weapons. Kate spoke about the recent XRPeace direct action in London and principles behind taking such action.
The morning finished with a panel discussion where we heard from a Bargn Nuri student about her experience of growing up under the shadow of North Korea and American aggression. There were also questions from the audience during which Cheolho Choi said the British peace movement looked "beautiful" and challenged us to think more about living as one with nature as well as working for peace.
There were also many great questions from the Korean delegation including asking Bruce Kent for his advice on campaigning (don't always believe what you government is telling you and never take your eyes off your target).
After a short bus ride to Westminster we were able to sing the peace songs of the Bargn Nuri Community in the shadow of parliament before praying together for peace on the Korean Peninsula and an end to nuclear weapons around the world. The rain didn't dampen our spirits!
The Pilgrimage continues with our brothers and sisters going to France before a Conference in Geneva at the end of the week.