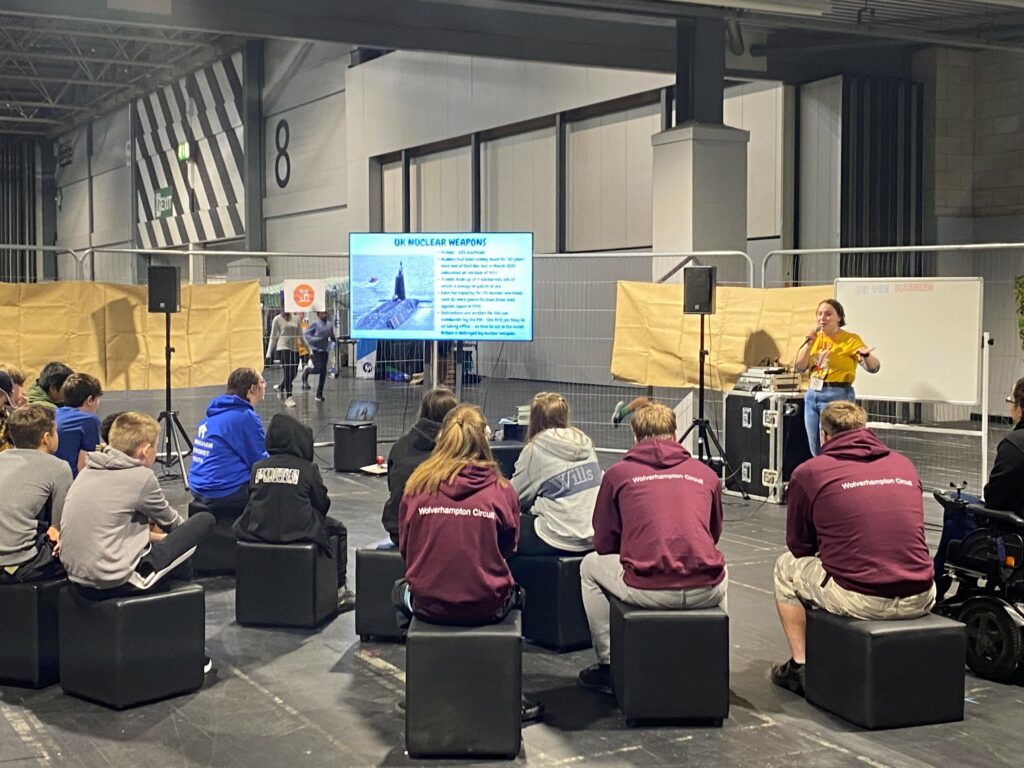 As well as running workshops for churches and other Christian groups, we have also developed our workshops for students at Christian schools studying Religious Studies GCSE, or Scottish National 5 Religious, Moral and Philosophical Studies following a successful pilot phase of this scheme.
Who are these workshops suitable for?
Our workshops fit in with the following GCSE exam specifications:
AQA Religious Studies (A, B, or Short Course) – Theme D
OCR Religious Studies (Full Course only)
CCEA Religious Studies (Full Course and Short Course) – Unit 6
Pearson Edexcel Religious Studies B
As well as SQA National 5 Religious, Moral and Philosophical Studies.
We are also happy to come and lead workshops as part of enrichment days – please also get in touch if you are interested in this!
What themes do the workshops explore?
Every workshop we run is tailored to the participants, but our schools workshops generally cover:
Arguments for and against nuclear weapons
The morality of nuclear deterrence
The history, geography, and politics behind nuclear weapons
How nuclear weapons link to pacifism, Just War theory, and social issues such as racism and the climate crisis
What the Bible says about peace and warfare
Perspectives of different Christian denominations on nuclear weapons, and interfaith views
What we as Christians can do to promote peace in our everyday lives
Why choose a Christian CND workshop?
We are the only Christian organisation that works specifically in the field of nuclear disarmament in the world. This give students a chance to learn from not only an expert, but also a fellow Christian, deepening both their academic and spiritual development. Christian CND will bring a fresh perspective to the classroom, and enable students to see the real-world application of what they are studying.
"The balance between knowledge of the realities of current issues and empowering activism left us feeling uplifted about what can be a difficult subject."

-Emily, workshop participant
How much do they cost?
Our workshops are completely free! We cover the costs as part of our outreach work. However if your school has the means to make a donation towards this work we would really appreciate that, as it enables this work to continue.
Where can I find out more?
If you would like to book a workshop for your school, or if you have any queries, please fill in the form below, and Liddy, our outreach manager, will get back to you.
By filling in this form you give us permission to handle your data for the sole purpose of processing your request.
Please note that replies to your query will come from a @christiancnd.org.uk email address. Sometimes this may be flagged wrong by your SPAM filters. We might text you or call you if we don't hear back to make sure our emails weren't lost.