The United Nations Treaty which bans nuclear weapons has opened for signature in New York, with the Holy See being the first member state to sign and ratify the Treaty. More than 50 other countries have already signed.
Check which countries have signed and ratified the Treaty.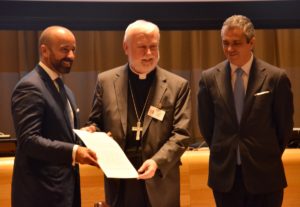 The Holy See has played a strong role in the process, taking part in the negotiations earlier this year. Christian CND has held productive meetings with representatives of the Holy See on many occasions.
On the same day that the Treaty opened for signature the Pope used social media to "appeal for peace and disarmament". We pray that his appeal will be heeded by those, including the UK, who have chosen not to sign the Treaty at this point.
The Treaty will come into force shortly after the 50th state completes the ratification process.
You can read the Christian CND briefing on the Ban Treaty
Come to our AGM in Bristol and hear more about the Ban Treaty
Join Christian CND today to support our work