As tensions around North Korea's nuclear program continue to escalate, Christian CND has joined individuals and groups around the world in calling for a diplomatic response to the crisis.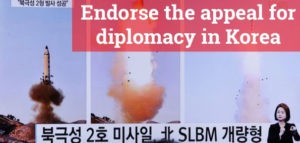 The situation has become increasingly dangerous, with Pyongyang claiming to have tested a hydrogen bomb over the weekend. This was met by the US Secretary of Defence threatening a "massive military response", after Donald Trump had previously promised "fire and fury like the world has never seen".
Christian CND believes that the only solution to the situation in North Korea is through dialogue. There have been suggestions that six party talks could recommence, though so far this has not materialised.
The international community has already shown what can be achieved by dialogue and negotiation this year. The United Nations agreed a Treaty to prohibit nuclear weapons in July, and it will be open for signatures later this month. If those involved in the current situation around North Korea show the same courage and leadership, then a peaceful solution can be found.