Christian CND members and supporters were among those taking part in the 'No Faith in War' day at the protests against the DSEI Arms Fair in London on Tuesday 5 September.
Activists highlighted the immorality of selling weaponry, using placards to share the message of peace found in Bible.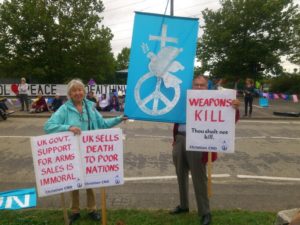 Among those taking part in the action was Christian CND member Reverend Enid Gorton, a Methodist Minister from Manchester. She said she was taking part as selling weapons is "against the will of God".
The DSEI (Defence and Security Equipment International) fair is set to attract more than 34,000 delegates to the ExCeL Centre in London, including many regimes accused of human rights abuses. Protests will be taking place on every day of the event.
The arms sales from DSEI will inevitably cause death and suffering to civilians in conflicts around the world. Christian CND believes that these sales are immoral, against the teaching of the Bible and calls for diplomatic solutions to be sought across the world.
Please join Christian CND in continuing to pray for those taking part in the demonstrations this week.
You can join Christian CND through our website.