Please join Christian CND in praying this month as we intercede for issues here and around the world. We believe God has the power to move in all these situations and that prayer goes hand in hand with our campaigning efforts. There are many things to be thankful for as well as issues we want to bring before God.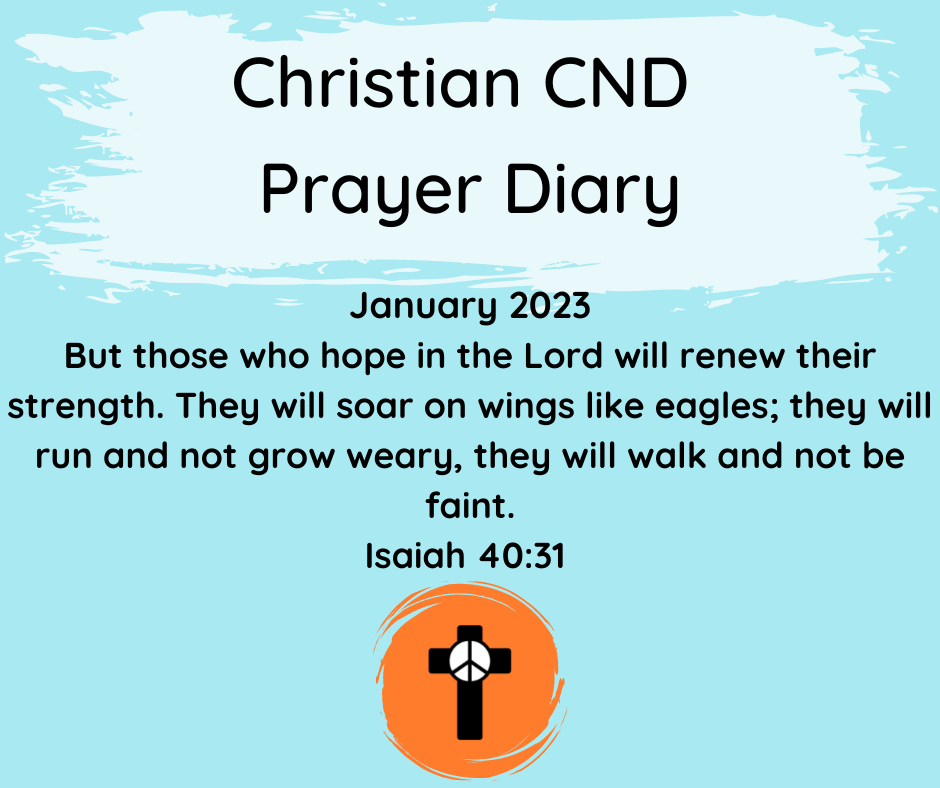 Download the Prayer Diary as a PDF
Treaty on the Prohibition of Nuclear Weapons (TPNW)
TPNW opened for signature in September 2017, and was open for ratification by states parties from 22 January 2021, almost two years ago. Signatures reached 91 and states parties 68 by September 2022, but since then, up to the end of 2022, there have been no further additions – despite the UN General Assembly votes in favour of nuclear disarmament. Thank God for Djibouti signing in early January – but we need to see more! We have continued to see major cities declaring themselves "nuclear free" to put pressure on their governments, and we have seen statements from a variety of national leaders that first use (or any use) of nuclear weapons is unacceptable – but many of the same leaders and their governments continue to devote vast resources to purchase of nuclear weapons and maintenance of nuclear infrastructure.
Let's pray for:
The voice of the people to put pressure on their governments to devote the resources instead to more worthwhile causes for the good of humanity, such as support of food and refugee programmes.
For significant major opinion formers also to have a change of heart, both in the mass media such as press and television and in social media.
For expert advice to governments to be truly impartial, rather than from industry insiders with a vested interest in continued massive military expenditure
For political leaders to grasp the nettle of being prepared to be branded as weak if they propose nuclear disarmament, and to accept the consequences of the argument from Morton Halperin, veteran US adviser, that nuclear weapons are not a viable instrument of defence policy. Whether for first use, second use, or any response to nuclear attack, nuclear weapons can only, he says, ever be a means of terror, and never an effective, moral or legal response. Thank God that even Mr Putin, despite his earlier nuclear threats and continuing attacks on civilian infrastructure, has not taken his nuclear threats further to date.
For major investors to think twice about their investment in nuclear arms production and maintenance infrastructure, recognising the validity of the NFU Global argument that investment in arms manufacture carries huge risks in view of shifting global opinion on TPNW.
The leaders of the leading TPNW states parties – and the UN Secretary General – to find ways to encourage other states to sign and ratify, and for the nuclear armed states to begin moves towards acceptance of the treaty.
Re-introduction of US Nuclear Weapons into the UK
While minimal information is publicly available on plans to reintroduce US nuclear weapons to the UK at RAF Lakenheath, we understand that this remains the intent of UK and US governments, ostensibly to counter the threat that, without a UK land-based nuclear capability, adequate retaliation would be hindered should the Russians escalate to nuclear warfare in Ukraine. The withdrawal of the previous US nuclear missiles in 2008 followed a long campaign led by CND. It would be irresponsible for our generation to allow them to return without strong resistance!
Pray …
For the success of the current CND campaign against reintroduction of land-based nuclear weapons to the UK
For effective campaigning in the circumstances of 2023, including effective use of social media as opposed to those of the past that depended largely on physical protests such as demonstrations and marches
For similar campaigns across Europe as the US expects its allies across Europe to permit their territory to be used as bases for the latest generation of US nuclear weapons – a generation of weapons that are almost certainly more deadly than their predecessors
Give thanks for the new Christian CND Youth Resource
Thanks to Liddy we now have a first-class resource for use by and with the younger generation, to introduce them to the issues of nuclear arms and help them to get involved in campaigning against these dreadful weapons
Pray …
For the youth resource to become widely known and (more importantly) used by and with the younger generation to develop passionate commitment to the promotion of peace and disarmament
For the work of the Holy Spirit in capturing the imagination of our children and young people, that they may become passionate about Jesus Christ, the Prince of Peace, and applying his Gospel of Peace in their lives
For the effectiveness of young people in peace campaigning among their peers, their families, and across their church and local communities
Pray that the leaders of all UK Christian Churches will become passionate pacifists and disarmers following the example of other leaders including Pope Francis
That we as Christian CND may be may effective in sharing and promoting our beliefs with other members and leaders of our churches
That the Exec will be able to facilitate the development of strategies that help leaders to be effective in leading their churches to become pacifist and pro-disarmament
That the Exec will be guided to use our resources to best effect to maximise our impact in promoting a peace and disarmament culture among Christians in the UK
For all the UK Christian peace organisations, including the denominational ones, that we may work well together, encouraging and supporting one another. We think of groups affiliated to the Network of Christian Peace Organisations, NCPO, including:

Anglican Peace Fellowship

Methodist Peace Fellowship

Fellowship of Reconciliation

Quaker Peace and Social Witness

Northern Friends Peace Fellowship
Pray for Christian CND staff and the Executive Committee – a group of human beings, all passionately committed to the removal of all nuclear weapons from our planet, but nonetheless fallible human beings
That we will be sensitive to God's guidance and leadership in our deliberations
That we will work well together as a team, recognising each other's strengths and talents
That we will recognise the best ways to use the resources at our disposal to maximise our impact in persuading others, and in particular Christian leaders and church members, of the importance of unilateral nuclear disarmament