Over the Bank Holiday weekend Christian CND joined thousands of others at Greenbelt Festival near Kettering. It was a great weekend full of inspiring talks, great music and sharing our vision of peace with those in attendance.
On our stall space, which we shared with the Fellowship of Reconciliation, we received great support for our petition calling on the UK government to provide support to the people of Kiribati (formerly known as Christmas Island) who suffered as a result of UK nuclear tests in the 1950s. The people living on the island continue to live with the consequences of these tests and the UK has failed to provide adequate support and refuses to release the details of the tests. As soon as the new Foreign Secretary if named by the incoming Prime Minister there will be an online version of the petition to sign.
We also asked festival goers to take some of the money the UK is set to spend funding Trident replacement and redistribute it to more socially-productive causes. With more than £200bn set to be spent, there is plenty to go around! The preferred priorities for those taking part were addressing the climate crisis, overseas development and the NHS.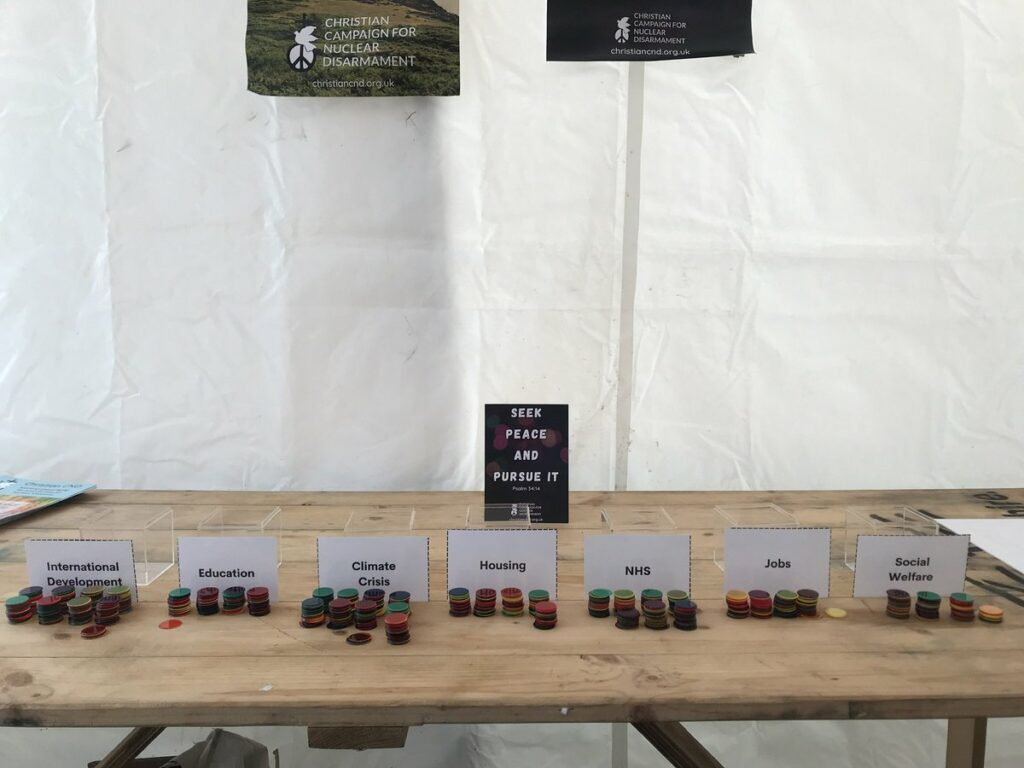 It was great to be able to speak to so many people about nuclear weapons, the current dangers of their use in the Ukraine conflict, the need for the UK to do more through the Non-Proliferation Treaty and the hope offered by the Treaty on the Prohibition of Nuclear Weapons.
We also premiered the new quilt put together by members and supporters of organisations within the Network of Christian Peace Organisations. It spells out the text of Article 6 of the NPT, which the UK signed in 1970 but which has yet to see any progress towards meaningful disarmament.
It was great to not only have so many people opposing nuclear weapons but also seeing enthusiasm for joining the movement opposing them. We had visitors who were interested in rejoining Christian CND after a time away and others looking to get involved for the first time.
Thanks to everyone who supported us both at the festival and through prayers.
Check out more of the photos from Greenbelt
Join Christian CND to support our work for peace