Click on each image to enlarge it
No Faith in War at DSEI 2017
See No Faith in War report for a short more
Hiroshima and Nagasaki Days 2017
Send us your photos!
NPT PrepCom in Vienna, May 2017
Latest updates on conference (from Reaching Critical Will)
Nuclear ban treaty negotiations in New York, 2017
Embassies Walk
March 2017
The Embassies Walk started at St Martin-in-the-Fields with a short service and a briefing.
Staff from the Indonesian Embassy came to meet with us at St Martin-in-the-Fields to discuss strategies for the forthcoming Nuclear Ban Treaty negotiations. We also visited other embassies; including Austria.
REPORT on Embassies Walk 2017
Ash Wednesday 2017
Church of England Synod
February 2017
CCND were outside Church House, London leafleting Synod members. 100s of leaflets about the Nuclear Ban Treaty negotiations were distributed.
6 August 2016
Hiroshima Day
Tavistock Square, London
---
18 July: No Faith in Trident vigil during the vote
in Parliament
---
No Faith in Trident Faiths Day
27 June 2016, Burghfield
All photos from Pax Christi with thanks

---
Meeting at House of Commons on the ethics
of nuclear weapons
21 April 2016
---
Spring Harvest Easter 2016
---
No Faith in Trident 27 February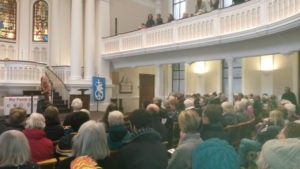 More photos of the Stop Trident rally from Pax Christi: https://www.flickr.com/
---
Nuclear Exits Meeting at Houses of Parliament,
November 2015
---
CCND at Synod, York, September 2015